Protect-Air
AirCom
-
Service
Order Hotline

+49 2102 7339021
Payment methods
V-Satz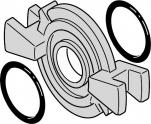 1
With this interlocking kit, two compressed air instruments can be connected to one another without
need for double nipples. This makes possible very compact layouts.
C35:
Mounting using rotary clip and two o-rings. These allow regulators to be connected to other
regulators or filters.
C40:
Instruments are connected to each other using screws, nuts and o-ring;
alternatively, a segmented connecting block can be used for instrument connection.
C50:
Instrument connection by means of a two-part connecting block.


Branch plate:
C40: Branch plate with compressed air connection port G1/8 or G1/4 or both outlet plates.
Supply plate for two pressure regulators through port G1/4.
C50: Branch plate with compressed air connection G1/4.
Port installation of the branch plate is only possible using connecting blocks.

Your are now in the overview of an article: V-Satz
Choose a version from the table underneath, please.
| part number | description | Price |
| --- | --- | --- |
| C350100018 | Drehclips mit 2 O-Ringen, Serie 35 | 2,60 € |
| C400500001 | Schrauben, Muttern u. O-Ring, Serie 42 | 3,70 € |
| C400700001 | Schrauben, Muttern u. O-Ring, Serie 42 | 4,70 € |
| C420600001 | für 2 beliebige Geräte, Serie 42 | 5,80 € |
| C750600001 | für 2 beliebige Geräte, Serie 75 | 4,70 € |
| C800600004 | für 2 beliebige Geräte, Serie 80 | 5,80 € |
| C950600001 | für 2 beliebige Geräte, Serie 95 | 23,60 € |
Cart
Leaflet
Direct Order
Login
Protection Components